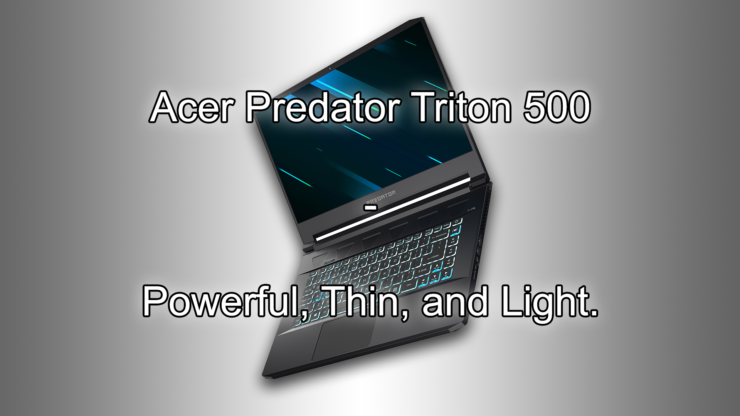 The Predator line of Acer gaming laptops are some of the most unique gaming laptops, featuring devices with 300hz, a hinge making the screen 360°, a slide-out keyboard, and more. Amongst these devices is the Triton 500, which is hailed as one of the thinnest gaming laptops on the market. Despite this, it has some powerful internals; an i7-9750H, and up to a 2080 (Max-Q). The most impressive part is Acer managing to fit this in a device only 0.7 inches thick, and 2.1kg heavy.
Triton 500 Design/Build

In terms of hardware and design, the Triton 500 boasts a 15.6-inch screen with a relatively quiet back panel. While many gaming laptops are made to flex the fact they're gaming laptops, this laptop simply has a glowing predator icon, along with the text "Predator". Unfortunately, the screen has more than noticeable flex on the bottom middle, due to where the hinges are located. The screen can also do a full 180, which is fun to show off. The chassis of the laptop is made out of aluminium which gives it a premium feel, although it can be a fingerprint magnet at times. Another nice thing is the vents on the back of the laptop which give it a sleek look while improving thermals. Thankfully, on these tiny bezels (with an 81.3% screen to body ratio), Acer managed to fit in a webcam, which we'll talk more about later.
I'm unsure if I got a bruised model, or if the aluminium is really easy to bend, but my laptop has an extrusion opening of the aluminium over one of the USB ports. I treat this laptop with great care, so this is slightly worrying. An issue with the trackpad has also popped up not even a year in- clicks to the bottom corner feel "deeper" and give double feedback- which is slightly worrying. It might be worth it to purchase an extended warranty.
I/O
On the I/O side, we have two USB A 3.1 Gen 1 ports alongside a DisplayPort cable, and a USB 3.1 Gen 2 USB-C cable supporting Thunderbolt 3 & DisplayPort over USB-C on the right side. There is also a Kensington lock. Flip to the left side, and we have the charger port, another USB A 3.1 Gen 1 port, an ethernet port, and two 3.5mm jacks for a mic & headphones. Killershot networking is supported on this device, which means using ethernet and WiFi is beneficial while gaming. There isn't however a microSD or SD slot, unfortunately.
Triton 500 Keyboard
The keyboard, of course, has RGB lighting, however, it is three-zone RGB versus per-key RGB. Moving on to the actual typing experience, this keyboard is a very comfortable membrane keyboard. Of course, it won't feel as good as a mechanical keyboard but this keyboard is one of the more comfortable membrane keyboards I've had the pleasure to use. Sadly, there is no dedicated numpad but you can enable the keys UIOJKL and number 789 to act as a numpad with Fn + F11.
Instead of this, there are a couple of useful buttons on the right side. These are a predator button that launches PredatorSense (Acer's software to OC, change lighting, etc.), volume up, down, and mute keys, and play/pause, skip, and previous song keys. In addition to this, there is a separated turbo button to overclock the laptop just above F1 and F2. There is however no separated power button. It is simply a power key in the top right corner, however, it is still a part of the keyboard. While I have no problems with this, I have seen people complain about this. Due to this positioning, you must hold the power button for sleep/shutdown, but not for booting. Overall, no complaints about this keyboard, I definitely prefer this to my previous laptop's keyboard, a Lenovo Y50-70.
Specs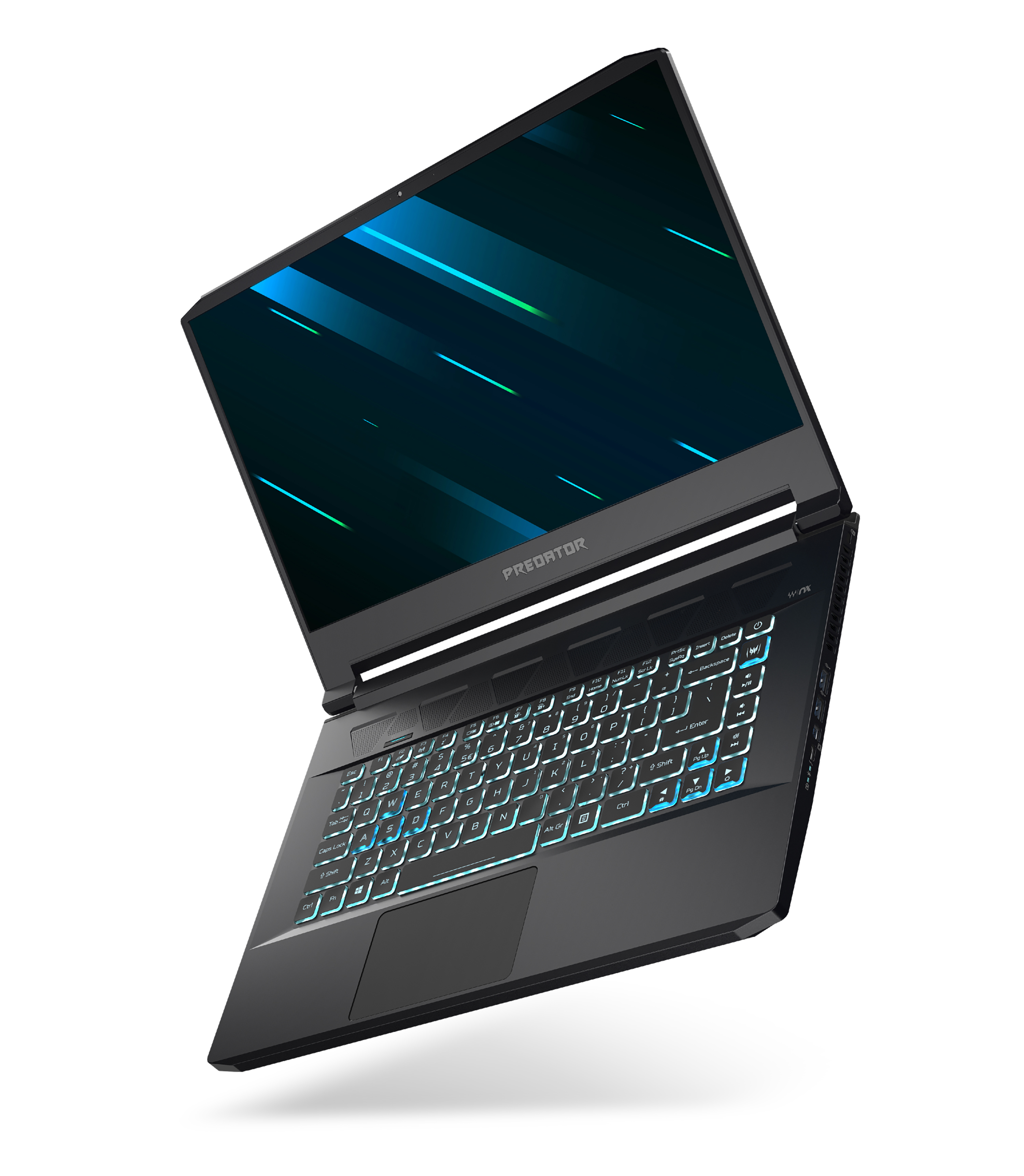 As we've previously mentioned, the internals of the Triton 500 are nothing to laugh about. It features:
Intel Core Hexa-core i7-9750H (2.60GHz, up to 4.50GHz)
NVIDIA GeForce RTX 2060, up to a 2080 Max-Q
1920×1080 Full HD, 144hz, IPS screen
16 GB dual-channel memory
512 GB SSD, up to 1 TB in RAID
Gigabit Ethernet w/Killershot Networking
Bluetooth 5.0
Up to 8hr battery life.
720p webcam
These specs are certainly impressive for a 0.7 inch, 2.1kg laptop. Amazingly, this laptop is still advertised to handle an 8hr battery life. However, like all marketing, this is under the best conditions. In my experience, I can get anywhere from 5-6 hours on a regular day. I do use apps such as Wallpaper Engine, and if you really need the battery, you can set the screen to 60hz. If you get this laptop, make sure to get the i7-9750H model, not the i7-8750H model. The former has a base clock of 2.6GHz, whereas the latter is merely 2.2GHz.
Unfortunately, if you want to upgrade the internals such as the RAM or SSD, you'll have a hard time. The motherboard is flipped meaning you must pull out ribbon cables and more to remove it & upgrade parts. This should not be a worry for the vast majority of laptop owners, but for a certain demographic, it's horrifying.
On the topic of the webcam, it's there, and I'm thankful for that, but… It's not good. You're looking at a 0.9MP 1280×720 camera. It'll do fine for the corner of your stream, but you're not shooting Instagram shots on this.
Triton 500 Gaming Performance
As long as you're plugged into the charger, you should be able to comfortably hit 144fps on most optimized games. Of course, since this is a mobile GPU, you might need to turn down a setting or two. A quick test run of Overwatch gives me straight 144fps (limited) on Ultra. Epic runs between 130-144fps. This does come with the tradeoff of a noisy laptop, but if you turn down the settings a bit & wear headphones (which you should be doing anyway), all is well. This does get the laptop quite hot, however, over 70-80 C°.
As you could imagine, these specs make this laptop more than VR ready. I've currently tested Tetris Effect, SUPERHOT VR, and Keep Talking and Nobody Explodes on the Oculus Quest via Oculus Link and only experienced two noticeable frame drops. Once in a particular effect heavy scene in Tetris Effect, and once in a simple SUPERHOT level (I'm unsure why this one occurred).
Pricing & Verdict
The Triton 500 is definitely a premium device, it starts at $1,650 on Amazon for the 2060 model, although it has been on sale for as low as $1,500 on Amazon if you've got the patience. At this price, I consider this laptop amazing value. It has good battery life for a gaming laptop, great performance, a high refresh rate, all at this price point. There are slight down-sides such as the flex and lack of an SD slot, but otherwise, I believe this laptop is one of the best on the market after using it for over half a year. The main benefits of this laptop are the performance, battery & size at this price point, so if you want a thin & light portable gaming machine, this is for you. If you don't care about any one of those three, then there are better options on the market for you.