The Powerbeats line of Beats earphones have been a well-known line of workout earphones for a long time, but with the Powerbeats Pro, Beats have made the switch to true wireless. This is quite a jump for Beats, however, this territory is not entirely unknown as the company is owned by Apple, and they thus may take advantage of the H1 wireless cheap featured in the Airpods Pro.
Design & Fit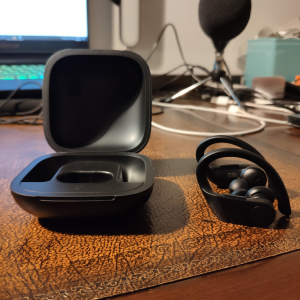 The design is, for the most part, the exact same as the Powerbeats 3, minus the wires. Due to this, the volume control has been moved to the earphones themselves. Each earpiece has the volume control, along with a clickable button of the Beats "b". A single click pauses/resumes, a double click skips a track, a triple-click reverses track. Additionally, a single click can accept calls, and holding the button can summon your smart assistant of choice (for android, only Siri on iOS).
My favourite design aspect of the Powerbeats line is the hook on the earpieces. The hook is designed to keep the Powerbeats Pro in your ear, and they work. No amount of vigorous head-shaking or exercise has managed to get these out of my ear. On the other hand, my only other pair of wireless earphones, AirPods, would fall with very little force needed. Since getting these, about a month ago, they have not fallen out of my ears once. Another positive in terms of fit is the rubber tips it comes with. I personally kept the "stock" ones on, however, it also comes with three other pairs of varying sizes. This makes for a very comfortable experience in your ear, which is much appreciated considering their battery life. The Powerbeats Pro also comes in four colours: black, ivory, moss, and navy.
Another thing to note about the Powerbeats Pro is the IPX4 water resistance. IPX4 means that they are rated for protection from water splashing from all directions. This is different than them being waterproof, and it is not recommended to swim with them, but they will withstand rain.
Battery Life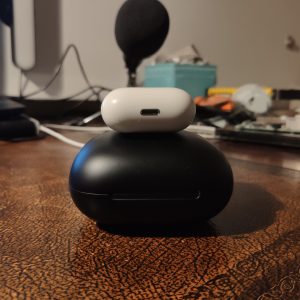 The Powerbeats Pro each have 9 hours of battery life. This battery life is the absolute best I've seen in true wireless earphones. It is double the AirPods Pro (with active noise cancelling) and an hour more than the Sony WF-1000XM3 (without active noise cancelling). This is without the charging case, which provides over 24 hours of battery life. However, the charging case is quite sizeable compared to its competitors. As pictured to the right, it is over double the thickness and near double the width of the AirPods case. For the target audience- athletes and gym-goers- this shouldn't matter too much as they typically carry a workout bag with them. This could, however, be an issue for everyday use, but on an anecdotal level, I've never run into an issue due to their size, they still fit fine in my pockets.
The charging case also lacks wireless charging, which seems odd for a case of this size. However, the amazing battery life of the Powerbeats Pro negates this as a possible con.  This battery life also makes it possible to simply keep the charging case at home. Unfortunately, the Powerbeats Pro charging case uses the same charging cable as most Apple products; the lightning cable (which it comes with). A USB-C cable would have been much prefered, as that believed to be the future of charging cables. It is also annoying as it is one more wire I need to carry, whereas I could have used one wire for my phone, earphones, and Switch.
Connectivity
As we've lightly touched at the start, the Powerbeats Pro use the Apple H1 chip. Thanks to this, the Powerbeats Pro can sync with Apple devices in the same way, at lightning-fast speeds (pun intended). Of course, as with every other wireless earphone, you can still sync them to Android and Windows by holding the button in the case. Syncing it to Android and Windows will act exactly as Apple devices, for the most part. Unfortunately, I do have some complaints here.
On Windows, the media buttons work well bar the volume controls, and on Android, the volume controls work perfectly fine, while in a call. When you're not in a call, the volume controls do work, but they don't change the same audiometer that the volume buttons do. A solution for that is to always keep your phone volume at 100% and change the volume only from the Powerbeats Pro. This works perfectly fine, but should not be a problem on headphones worth $250. Other than these slight complains, I only use these on non-Apple devices and have rarely experienced issues with the connection. Another important thing to note is you cannot check the battery on Windows. On Android, it is possible, however, you must download the Beats app.
Audio Quality
I would like to preface this by saying that I am by no means an audiophile. If you want the highest quality audio, you should opt for wired headphones, rather than wireless earphones. However, these earphones still sound very good. As compared to AirPods (gen 1), the Powerbeats Pro do the music much justice. Upon revisiting my AirPods, the sound quality of the Powerbeats Pro is vastly superior. With the AirPods, all the instruments in the music sounded very "compressed", so to say. On the other hand, the Powerbeats Pro do justice to all the instruments.
I primarily listen to Hip-Hop/Rap with some Rock sprinkled in, and these earphones make the listening an enjoyable experience. Beats are stereotypically known for too much bass but to my (non-audiophiliac) ears they sound balanced and not too bass-heavy. I cannot stress enough however that if you really care about audio quality, I am not an audiophile, test these in person
One thing that might be a negative is the lack of any type of noise-cancelling on these earphones. Due to the fact they are in-ear, they do a fine job as passive noise-isolation. However, if you want noise-cancelling you must look elsewhere. For noise cancelling, I recommend the Sony WF1000XM3.
Pricing
The Powerbeats Pro retail for $249.99 USD / $329.95 CAD / 937.5 SAR, however, they are on sale right now on Amazon for 20% off making it only $199 USD. This is quite a premium price, leaving one with the question of whether it is worth it or not?
Final Thoughts
The Powerbeats Pro are great true wireless headphones marketed primarily towards gym-goers, but don't let that fool you, these earphones are great for everyday usage too. Their battery life is the best on the truly wireless earphone market, they have great connectivity, featuring the same chip as the AirPods Pro, and great audio quality too. They also have water resistance, which comes useful in the rain. The only obvious faults I can think of is the lack of wireless charging / a USB-C port, the lack of any type of noise-cancelling,
While the price might seem steep, it around the same price of its main competitors- the exact same price as the AirPods Pro, and $20 more than the Sony WF1000XM3. When you take into account the discounts, it's a fair bit cheaper than both the competitors. I managed to snag mine for about $160-170 after discounts and coupons. At a price like this, I would recommend these earphones. A good pair of truly wireless earphones are an investment that is very useful, especially if you listen to music daily for hours. The hooks alone made me fall in love with them as I absolutely hate earphones falling out of my ears.
All things considered, I would recommend these earphones, just not at their MSRP of $250. This is due to them not having noise cancelling, which it should have at this price (although that does not matter much to me). It is also due to the issues with connections to Windows and Android. Otherwise, at a discount, these earphones are a solid 8/10, great buy, especially for exercise.