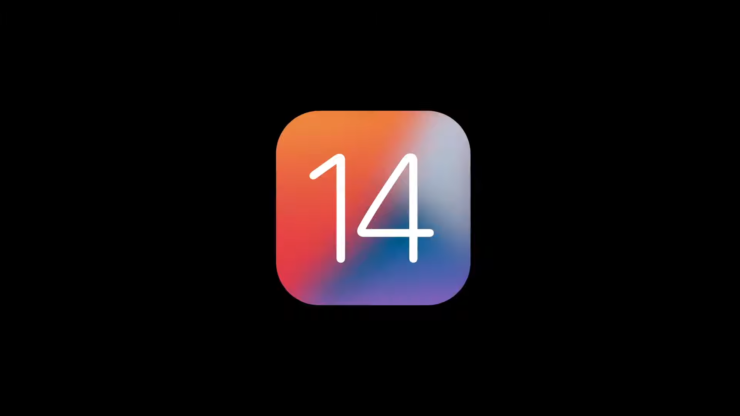 Earlier today, Apple held their annual WWDC. This year, however, was quite different than other years. Rather than being a live in-person event with an audience, the event was still live, but with social distancing. This meant that not only was there no audience, but the presenters were all in different rooms too. Regardless, this didn't stop the event from going on as usual, and arguably better, than typical. As usual, Apple announced updates to it's 5 main operating systems: iPadOS, iOS, watchOS, tvOS, and macOS. We'll be focusing upon iOS 14 in this article.
If you just want the features bullet-pointed, jump to the bottom here.
iOS 1
4
Home Screen
The first OS Apple introduced was iOS 14. This update is focusing firstly on updating the home screen experience. The first change is the app library page, as seen below.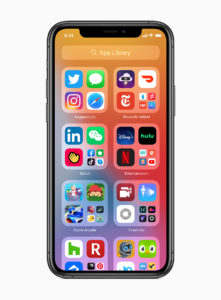 Once you scroll past your last page, you're greeted with this. Your app library shows all of you apps neatly organized into categories of their uses. It also gives you a folder with smart suggestions, as well as your recently downloaded apps. Of course, there's also a search bar. To further enhance your home screen experience, Apple is introducing home screen widgets.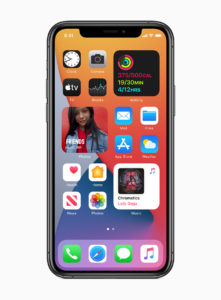 The widgets now on the home screen are the same widgets from the widget page but expanded upon. Alongside your already known widget choices, such as Apple Music, Activity, Photo widgets and more, there's a new "Smart Stack" of widgets. Your iDevice will use your location, time, and activity to decide which widget to bring to the top of the stack for you, which will dynamically change.
More Compact Designs
VOIP calls, phone calls, and Siri. What do these three have in common? If you guessed unnecessarily big screens, you're right. Since the dawn of time iOS, these three have taken up your entire screen when you get an incoming call (well, once the API was introduced for VOIP calls). With iOS 14, incoming calls will be a banner on top of the screen. Alongside this, Siri is improved too. Rather than taking up your whole screen, Siri will remain a floating orb at the bottom. To add on to the call improvements, FaceTime calls (alongside video consumption) will gain a picture in picture ability. Pretty neat, huh?
Moving on, another thing that's been compacted is… Apps! If you need to quickly do something small, such as pay for your coffee, you can make an App Clip. App Clips are small apps, less than 10mb in size, made for simple tasks. You'll be able to access these via NFC tags or App Clip codes, which look similar to WeChat mini program codes.
iMessage Improvements
Of course, we cannot talk about an iPhone without talking about, first and foremost, iMessages. iMessage is getting a number of improvements in iOS 14, the first of which being pinned conversations. Unlike WhatsApp, it looks like the limit on pinned conversations is at least 9.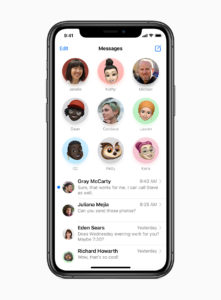 Moreover, Apple is improving group chats. You'll now be able to mention group members, as well as have inline replies to messages, similar to Slack's message threads feature.
Default App Improvements
Apple Maps is also getting a range of improvements with iOS 14. It's going to be getting Guides, if you're unsure of what to do in a new location. This is basically a paper guide to an area, but not on paper. Guides will be curated, and won't be able to be submitted by just anybody. Apple Maps is also improving it's routing options. You'll now be able to get cycling directions, and planned out electric vehicle routes. These will take into account street busyness, and charging stops respectively amongst other things. These features, however, will not be available in every country at launch.
Alongside improvements to existing apps, iOS 14 is getting a new default app: Translate. This app seems to be a competitor to Google Translate, featuring a conversation mode, and an on-device mode. Of course, this comes at a tradeoff of being limited in languages. These 11 languages are English, Mandarin Chinese, French, German, Spanish, Italian, Japanese, Korean, Arabic, Portuguese, and Russian.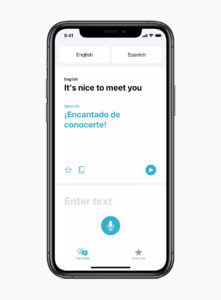 The Home app also has improvements, such as more controls, adaptive lighting, and more automation suggestions. Moving on to another app, the Find My app will add support for 3rd party products with the new Find My network accessory program, which is quite exciting. The Health app is getting improvements to understand sleep and hearing health, plus a health checklist, and the Weather app will be able to keep you up to date on severe weather events. Perhaps the coolest updated app is the Wallet app, which will now be able to hold your digital car keys. These can be shared through iMessage, and can be used to unlock your car via iPhone or Apple Watch.
Other Features
We've covered the biggest features of iOS 14, but wait, there's more! For those who care about privacy, the App Store will require summaries of information an app will have about you, both linked to you and possibly used to track you. Alongside this, all apps will need permission to track you, not just your location or so, but also connecting information for advertising purposes or so. Safari will also introduce privacy reports as on macOS Big Sur, showing blocked trackers and monitoring your passwords for breaches.
Siri, as always, is getting improvements. This includes the ability to record voice messages. AirPods Pro will gain spatial audio for 5.1 and 7.1 audio. Accessibility is also improving in iOS 14, with headphone accommodations, tuning your audio to suit you. There will also be a feature in FaceTime to detect sign language and enlarge the person signing. And finally, VoiceOver will automatically detect text displayed on screen presumably in images and other non-test formats to aid those who cannot read it themselves.
iOS 14 Features Summary
If you only care about the features, no BS, here you go.
Home Screen Improvements

App Library page, categorizing your apps + recently added & suggestions
Home Screen widgets, featuring a Smart Stack (of widgets) that dynamically changes to display widgets of current relevance to you

More Compact Designs

VOIP & Phone calls no longer take up the full screen, rather a small banner up top
Siri is but a floating orb at the bottom of your screen & out of your way
FaceTime & videos will have a PiP mode to be shown on your screen outside of their apps
App Clips are now a thing, which are compact (< 10mb) apps made for simple tasks, accessible via NFC tag or App Clip codes

Default App Improvements

iMessage

Pinned conversations, at least 9 possible
Ability to mention members in group chats & have inline replies (

à la

Slack's message threads)

Apple Maps

Guides to locations, specially curated
Improved routing: cycling routes as an option + planned electric vehicle routes, featuring busyness & charging stops respectively

New app: Translate

A competitor to Google Translate
Features conversation mode & on-device mode
11 languages: English, Mandarin Chinese, French, German, Spanish, Italian, Japanese, Korean, Arabic, Portuguese, and Russian.

Home app now has more controls, adaptive lighting, more automation suggestions
Find My app now has support for 3rd party products
Health app now has improvements to sleep understanding & hearing health, + a health checklist
Weather app will now be able to keep you up to date on severe weather events
Wallet app will now be able to hold digital car keys, sharable through iMessage

Other Features

Privacy

App Store requires a summary of all info an app will have about you on the app page
All apps need permission to track you (e.g. connecting info for advertising purposes)
Safari introducing privacy reports, showing blocked trackers, breached passwords amongst other stuff

Siri is being improved, notably gaining the ability to record voice messages
AirPods Pro gaining spatial audio support (5.1 & 7.1)
Improved accessibility features

Headphone accommodations, tuning your audio to suit you
Enlarge person signing in FaceTime
VoiceOver detecting (presumably) text in images & so to read aloud
Final Thoughts & How To Install
iOS 14 is quite a great update for current iOS users. Long-awaited features such as widgets on the home screen as well as an app library are here, plus a range of default app improvements and other features. While these mentioned features were available on Android, this should serve as wake up call to Google, who hasn't introduced anything too big in the recent Android versions. Overall, a solid update from Apple, and plus, all devices that support iOS 13 will support iOS 14 too!
If you're looking to install iOS 14, you'll need the beta profile. You can sign up for the public beta over at https://beta.apple.com/.
So what are your thoughts on iOS 14? Let us know in the comments below! If you're looking for an iPhone to buy to run iOS 14 on, check out our iPhone 11 discussion here.