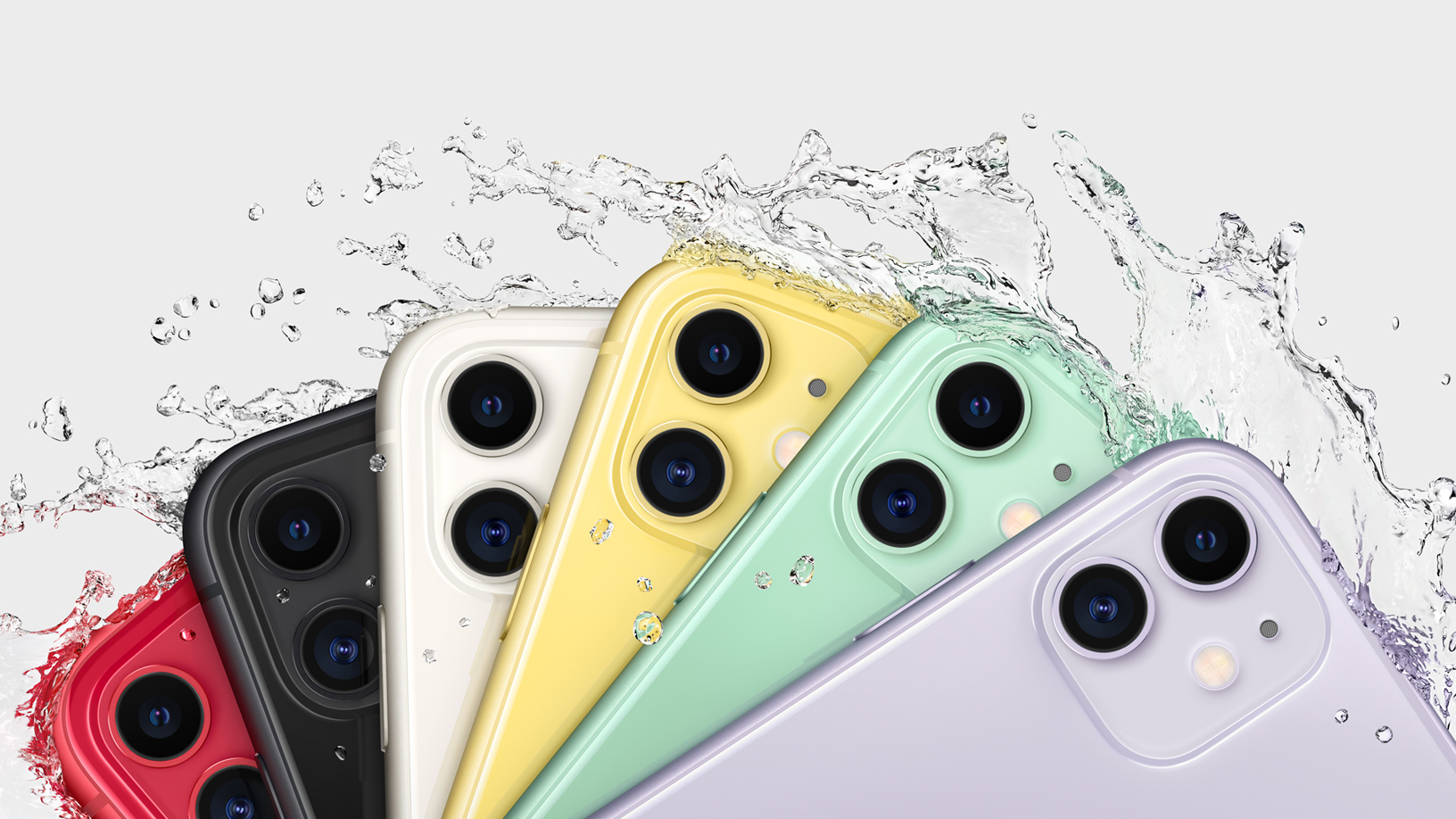 Yesterday,  Apple released its long-awaited iPhone 11, along with two variants; the Pro, and Pro Max. We covered the event on here live yesterday, but we're back today for an in-depth review. All of the aforementioned phones go up for preorder this Friday and launch a week from then.
Looks, Display, and Design

The first thing you'll notice on the phone is the camera.  As with most of the previous Apple phones, this phone has dual cameras. Unlike most of the previous phones, the double cameras are on an elevated square, along with the flash light. Along with that, the notch seems to be here to stay for the foreseeable future. This phone also comes in more colours, which you can see in the image below. Other than that, this phone looks like any of Apple's notched phones.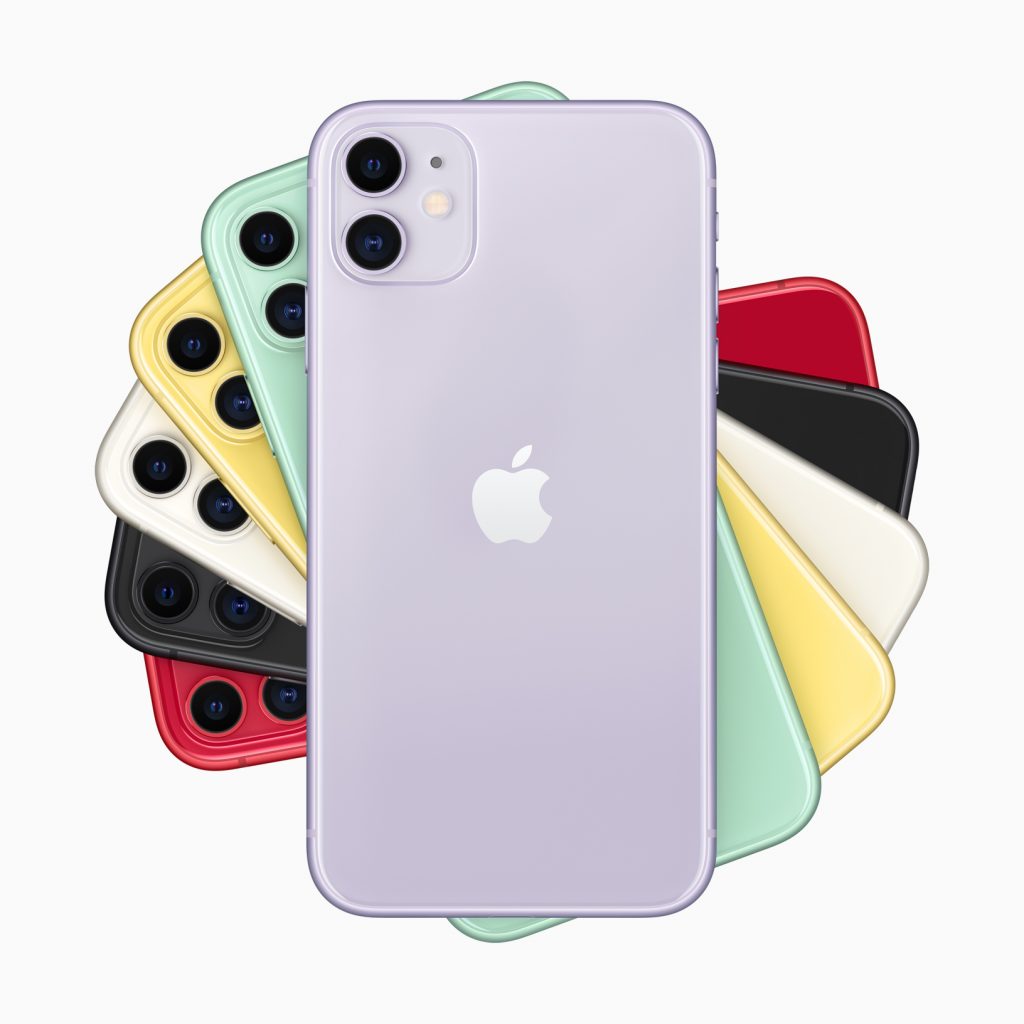 In terms of display, the iPhone 11 boasts a 6.1-inch Liquid Retina display. This, unfortunately, is not OLED. As always, it's advertised as all-screen but do note that it has the notch. Additionally, Apple mentions that the screen features wide colour support and True Tone. Unfortunately, this phone is the first flagship phone that doesn't have 3D touch, which most likely means 3D touch is no more, in favour of Haptic Touch. Moving on to design, the back of the phone has a single piece of glass that Apple describes as "precision milled." This phone is also IP68 rated, meaning it's going to be fine in up to 2 meters for up to 30 minutes.
New Features
Moving on to what everyone cares about- the features!
As with every phone, Apple has upgraded the chip. This iPhone uses the A13 Bionic, which Apple boasts to be the best smartphone chip. If the stats they showed at the event are true, the A13 has almost double the power the chip in the S10+ has. They also make similar claims for the GPU.
If the graph proves to be true, which we will see in the following days with Geekbench comparisons, then it seems Apple remains to be unmatched in both CPU and GPU category. Although that brings up another question. We've gotten such fast mobile CPUs and GPUs, does this increase in speed really matter anymore? Most users don't generally run GPU / CPU intensive apps on their phones, we have laptops for that, so why improve this much? Could that R&D money not be better spent on other aspects of the phone? The Pixel 3 has a much "worse" CPU and GPU, but by no means is it a bad one. Although, this topic is for a whole other article, let's get back to the iPhone 11.
Moving onto another feature, the iPhone 11 features spatial sound, and Dolby Atmos sound. Sadly, I have not tried it hands-on, so I cannot comment on how it sounds. This phone, surprisingly, does not support 5g. Although, it does support both gigabit LTE and Wi-Fi 6, along with "Dual Sim with eSIM." Apple also claims the Face ID on this phone is 30% faster. For the most part, these are all the new hardware features summed up, except for one big one, which deserves its own section. This, of course, is the…
iPhone 11 Camera!

Earlier on in the article we touched on the camera, but now it's time to go in depth. Of course, as you could tell from the earlier images, the phone uses dual cameras. Here are the specs:
One thing that might stand out to you is that the cameras are wide and ultra-wide. Apple boasts 0.5x zoom to 2x zoom, which is good but has been a standard in other phones for a good minute now. These cameras can record video up to 4k 60fps, along with "extended dynamic range for more highlight detail and cinematic video stabilization." In the event, Apple showed off a video recorded on the phone, which you can watch here. Of course, this was taken by professionals so of course it'd look good, but you gotta credit the camera too.
Camera Software Improvements
This phone also finally has a night mode, which Apple previewed with this image: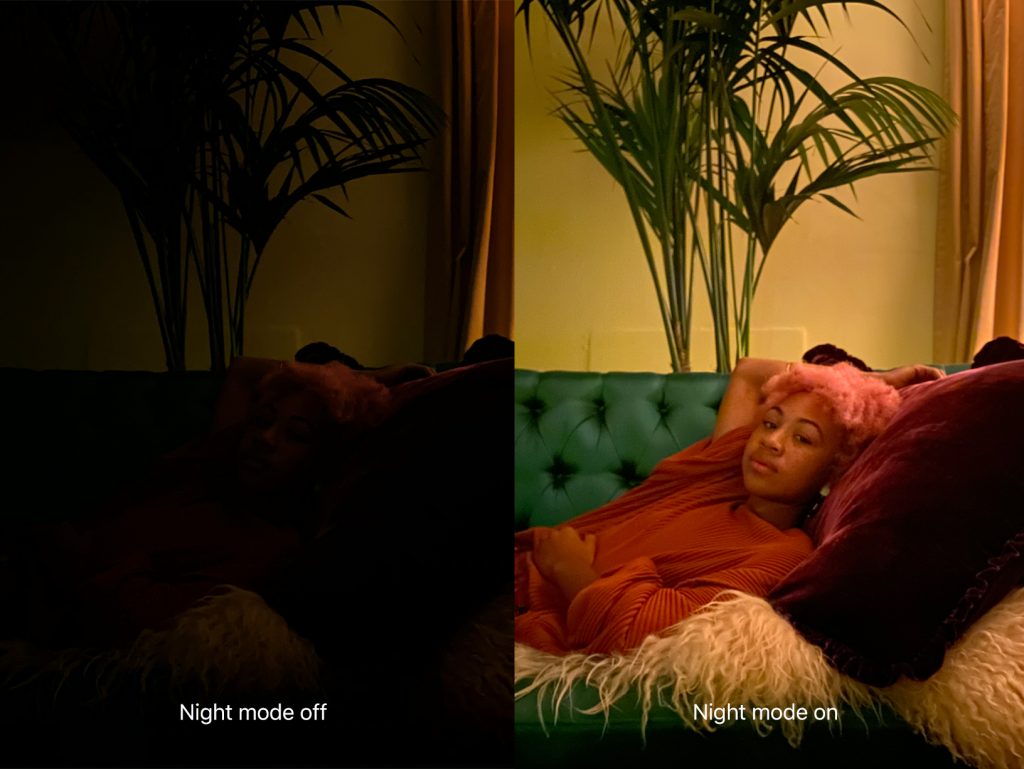 While this is some good night mode, Apple is rather late to the party. For example, my Xiaomi Mi Mix 3 has had this, and it's been out for a fair while now. Apple also mentioned Deep Fusion, coming with iOS 13. It shoots 9 images, 8 before clicking the shutter, 1 after, the neural engine combines them to make this photo in a second. Goes through 24 million pixels. Here's an image they previewed:
Now that's one high-quality image. The camera app interface is also redesigned, the camera preview is full screen, lookg blurred under the controls. In addition to this, holding the shutter button will now take a video rather than a burst, to save those precious seconds it takes to change to video. The front camera is also upgraded, to 12MP, and a wider FOV. This allows you to take group selfies with more people! Along with this, you can now take 4K slo-mo videos with the front camera. Apple is calling these "Slowfies." There are also more improvements to the camera app, but those will be discussed in an article about iOS 13.
Price
The iPhone 11 starts at $699, and preorders start this Friday. The phone will release a week after, on the 20th. For $699, you get a 64gb model. For an additional 50 dollars, you can get 128gb, and for $849 you can get 256gb.
iPhone 11 Final Thoughts
All in all, this phone is a good phone. The camera upgrades are impressive, although some of them, such as optical zoom and night mode, aren't exactly new compared to other phones. The Deep Fusion, on the other hand, is quite amazing. The other new features such as a faster GPU and CPU are quite impressive yes, but as I mentioned before, do you need all this speed?
Other features such as spatial sound cool on paper, but you'll probably want to experience it for yourself before you judge it. No 5g is rather disappointing, as most flagships nowadays offer a 5g model, although to be fair, most people don't use 5g. Faster FaceID is always cool, but in screen TouchID as rumoured for next year would be even better. On a different topic, the design and colours of the phone are rather nice, and the notch has grown on most people by now.
All in all, would I recommend it? If you're already deep into the Apple ecosystem, this phone may be worth it for you. Unfortunately, in my eyes, I wouldn't recommend it. For $699 you can get better phones that come with more base storage, more features, possibly cheaper, although admittedly probably not as fast a CPU / GPU. Additionally, I think that Apple should have dropped lightning and went for USB Type-C, as many of its competitors are doing.
But wait… There's more!
iPhone 11 Pro & Max Design, and Battery

Now that we've covered the iPhone 11, we need to cover the 11 Pro and Max! First off, the screen. The iPhone 11 Pro has a 5.8-inch screen, which is slightly smaller than the iPhone 11. Meanwhile, the iPhone 11 Pro Max has a 6.1-inch display. Next up, the design.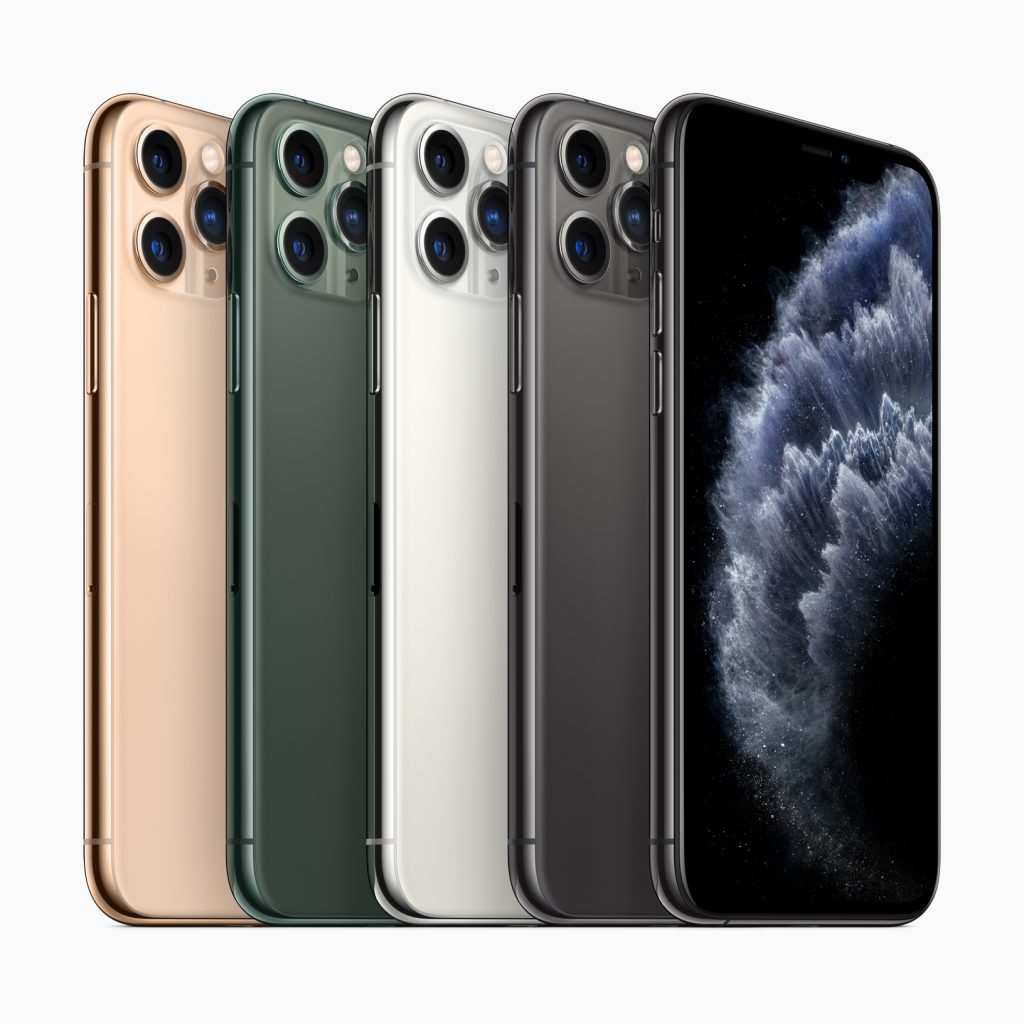 I like these colours a lot. Especially the midnight green, and they've finally gone to gold instead of rose gold! The iPhone 11 Pro & Max are rated for water resistance up to 4m for up to 30m. Additionally, they've got an even better screen than the base iPhone 11. Apple calls it the "Super Retina XDR display." which it boasts as "a custom-designed OLED, [which] provides users [with] an immersive HDR viewing experience for movies and other high-definition video with up to 1,200 nits brightness." Along with all this, the screen features a wide array of colour support and a 2,000,000:1 true black contrast ratio. Apple also mentions that this screen is more power-efficient. Unfortunately, this screen also does not feature 3D touch. Rest in peace.
Regarding battery life, Apple boasts "the best battery life." The chip is the same as the iPhone 11, the A13 Bionic, but these models have a leap in battery life. The regular Pro apparently has four more hours than the iPhone Xs, and the 11 Pro Max has 5 more hours compared to the iPhone XS Max.
Camera
As one would expect, the Pro series has better cameras. Unlike what one would expect, the Pro Max has the same camera as the Pro.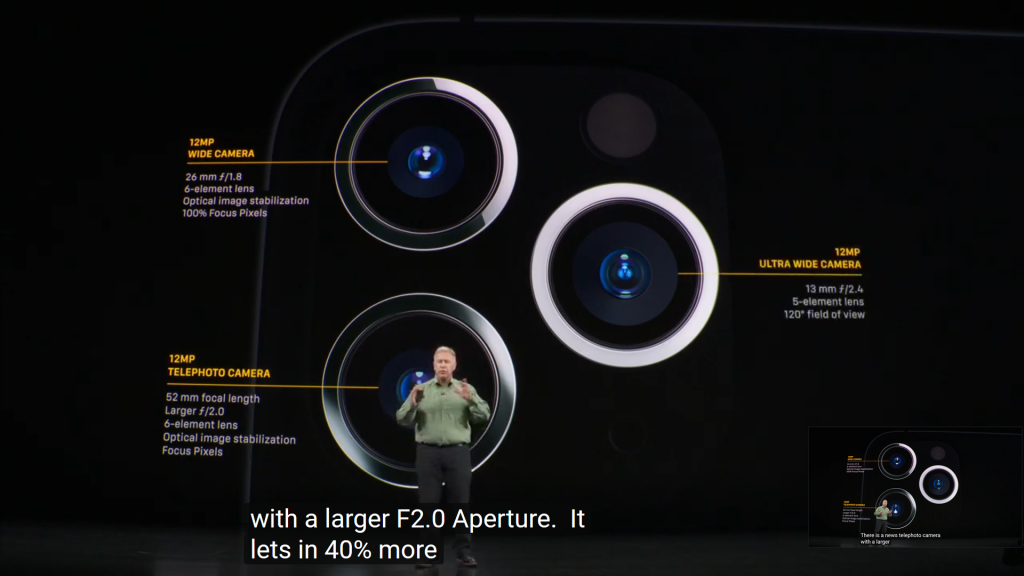 As seen in the image above, both the iPhone 11 Pro and Pro Max have three cameras as compared to the iPhone 11 having 2. The third camera is a telephoto camera featuring a larger focal length. Apple mentions that each of these cameras records "brilliant 4k video with extended dynamic range and cinematic video stabilization." As with the 11, you can adjust the zoom from 0.5 to 2.0, which is good for those times when you can't back up anymore. iOS 13 also brings better video editing tools, but that's not the camera itself, rather software. The other two cameras function exactly the same as on the 11, so we won't go over them again.
Having three cameras, however, makes for an impressive portrait photo, boasts Apple. Since there is both a telephoto and wide cameras, you can choose the FOV. Deep Fusion is also going to be present on this phone, along with the QuickTake feature for quick videos. Smart-HDR is also going to be on this phone, which Apple says "uses advanced machine learning to recognize subjects in the frame and intelligently relight them for more natural-looking images with greater detail." Put your Photoshop away, Instagram influencers. Again, as with the 11, you can take "Slowfies."
These camera, battery, and design differences are the biggest differences between the regular model and Pro / Pro Max. If I missed any differences, please let me know in the comments.
iPhone 11 Pro & Max Pricing
The iPhone 11 Pro starts at $999, and the 11 Pro Max starts at $1099. For the iPhone 11 Pro, it starts at 64gb, skips 128 to go right to 256gb for $1149, and 512gb for $1349. The 11 Pro Max is similarly priced, starting at 64gb, 256gb for $1249, and 512gb for $1449.
Final Thoughts
As with the iPhone 11 base model, I do genuinely think these are impressive phones, but I would not recommend them at these prices. While it's got some impressive cameras, design, and whatnot, I still think there are better options on the market. The Sony Xperia 5, for example, also has a great camera except it's got a much lower price. Also, as I said about the iPhone 11, I think that USB Type- C should have been on this phone.]
If you've read this far, I just wanna say a quick thank you : ) Worked hard to get this done in one day, so a share on Twitter or so would be appriciated!