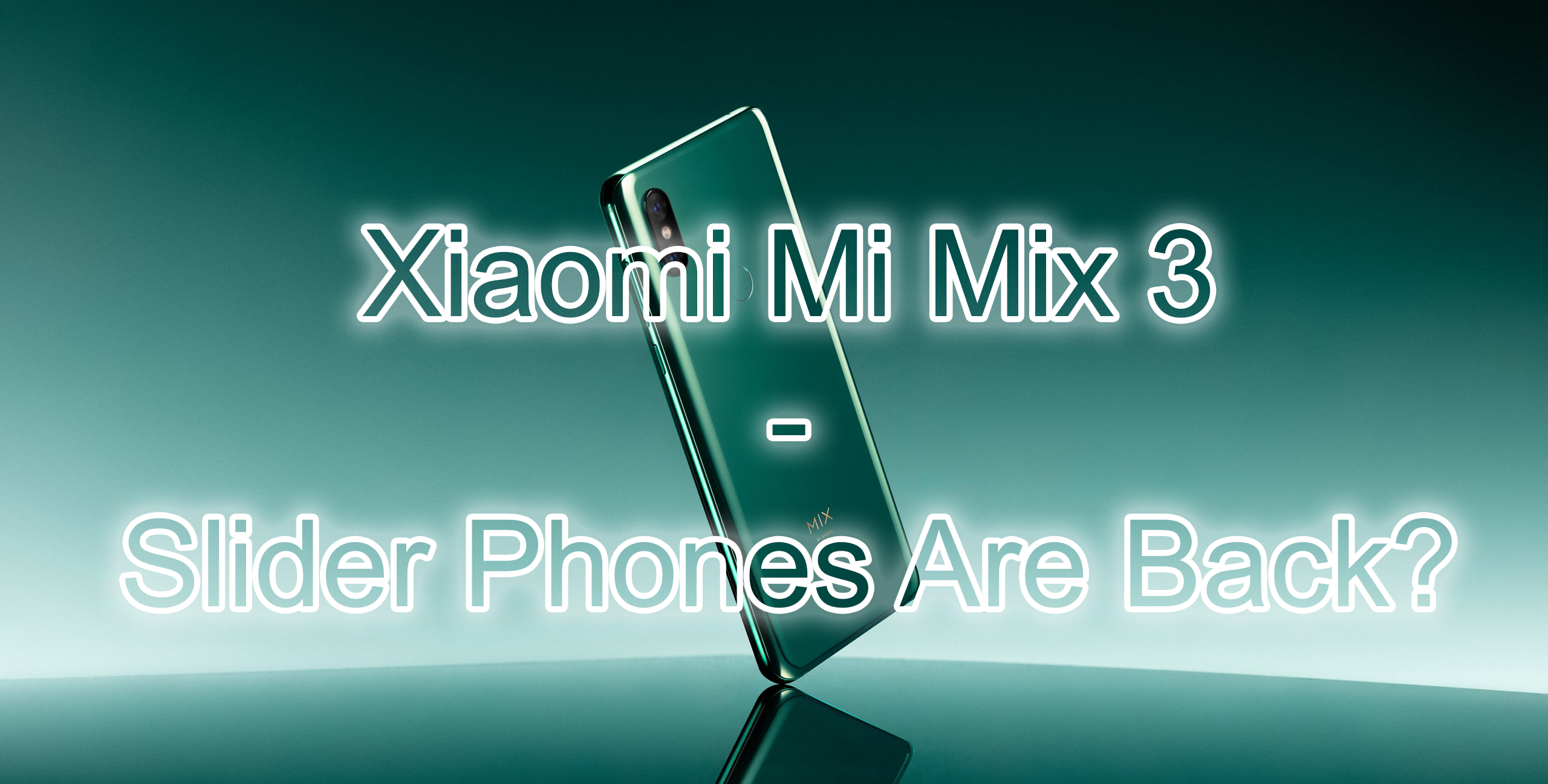 The Xiaomi Mi Mix 3 is Xiaomi's latest addition to their Mi Mix line, a line of all-screen phones. The previous phones in this lineup certainly had a high screen-body ration, but none were over 90%. All the previous additions still had a chin at the bottom for the camera, but this phone is something else. Remember those old slider phones that seemed so cool? The Mi Mix 3 brings sliders back. While there is a 5G model, this review is based on the regular model.
Box Contents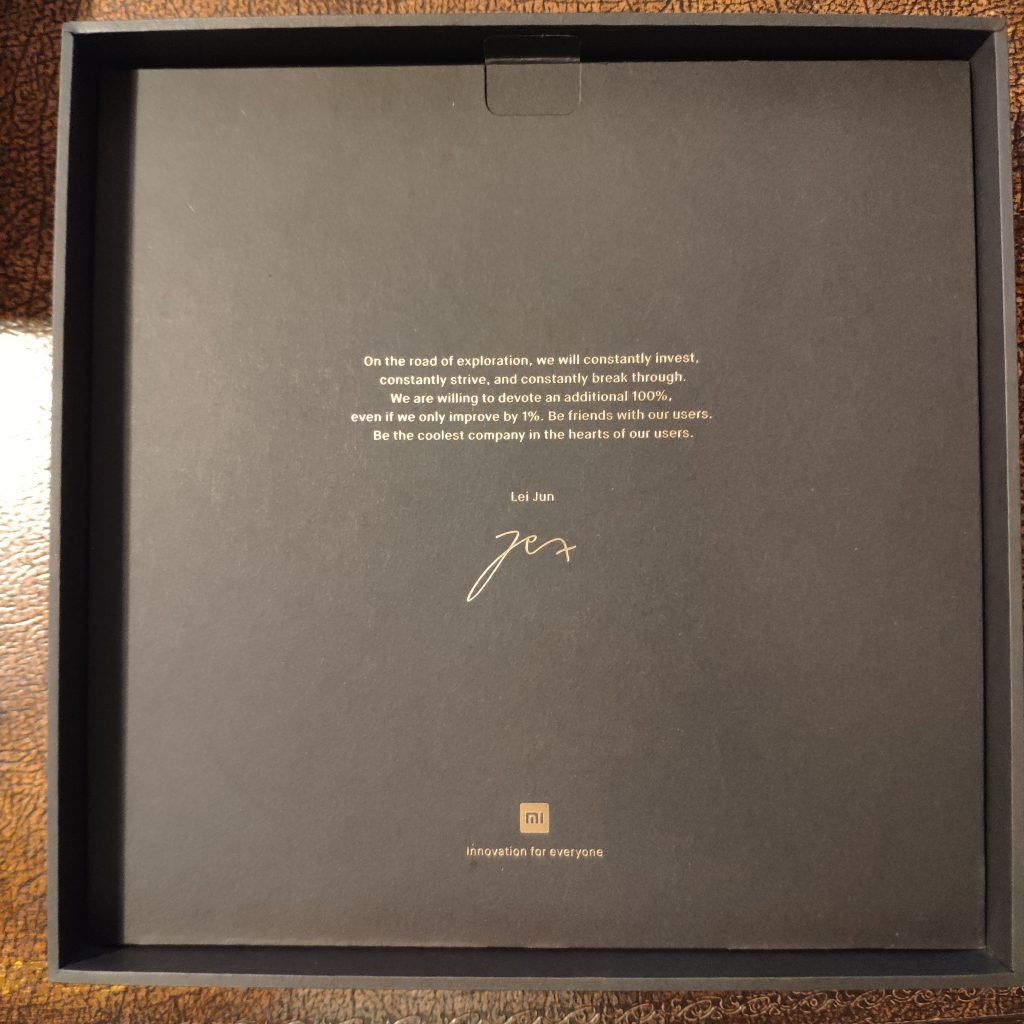 Once you open up the box, the first thing you'll be greeted with is a note from the CEO of Xiaomi. This note reads:
"On the road of exploration, we will constantly invest, constantly strive, and constantly break through. We are willing to devote an additional 100$ even if we only improve by 1%. Be friends with our users. Be the coolest company in the heart of our users. Lei Jun." As you'll learn, it seems like this isn't just talk.
Underneath this is the phone itself, and underneath that is a few accessories. First off we have a cheap case. It's nothing special, but it's nice to have until you can buy a proper case. This phone uses USB-C charging, so of course, it came with a USB-C cable. A USB-C to USB-C would have been nice, but USB-C to USB-A has its benefits. Additionally, there's a wall charger with included fast-charging support which is appreciated. Along with all of this is a 3.5mm headphone jack adapter, which is nice to see, considering even Apple no longer gives this adapter for free. Surprisingly, a wireless charger is also included in the box. This wireless charger works completely fine and is quite convenient. Finally, there's also a SIM tray tool.
Design & Display

Let's talk about the design of the phone. The Mi Mix 3 comes in three colours, Onyx Black, Sapphire Blue, and Jade Green. The back is made of ceramic, and I must say, this phone is beautiful. The back is made of ceramic, which unfortunately makes it a fingerprint magnet. If not for that, and my clumsiness, I would run this phone without a case.
The screen itself has a whopping 93.4% screen-to-body ratio. For comparison, it beats the iPhone 11 Pro Max's 84.4% ratio and the Note 10+'s 90.92% ratio. This is very impressive, but how did they do it? By hiding the camera behind a slider. The display is also a beautiful AMOLED display, although it suffers from a slight issue. At lower brightness', when a black pixel changing to coloured (such as lowering the notification shade in dark mode) you might notice the pixels being purple at first. This is only noticeable at minimum brightness so it isn't a deal-breaker for me. My only complaint about the screen is the non-standard screen ratio, which makes pictures / YouTube videos sometimes awkward to view if you forget to zoom out.
At first thought, you might think that this is a dumb concept. For some people, it might be. But if you're like me, and don't use the front camera often, this is a trade-off you're willing to give. Unfortunately, because of this slider, the phone is not IP rating which means it isn't waterproof. I can personally live with this, as I live in Saudi where it rarely rains, but this could easily be a deal-breaker for some people. On the back of the phone, you'll find the camera of course, as well as a fast fingerprint sensor.
Camera
Moving on, let's talk about the camera. In terms of raw specs, the Mi Mix 3 sports 24MP Sony IMX 576 and 2MP OC0A10 front cameras, and two 12MP rear cameras, Sony IMX363 and Samsung S5K3M3+. Their site boasts a list of features on these, here are the most significant ones. On the rear cameras, "960 fps slow-motion recording", "Nightscape capture mode", "Portrait Mode", "Low Light Enhancement". You can record up to 4k60fps on both front and rear cameras, and on the rear cameras, slow motion at [email protected]/240/960 fps. The rear cameras also have 2x optical zoom. Sure, these specs sound cool, but what do they mean in practice? The camera is pretty ****ing good. Here are some of my favourite photos I took with it over the summer:
I think these images can show you the quality of this camera. Here's a comparison of night mode vs regular camera.
I love this camera.
Battery Life
The Mi Mix 3 battery capacity is 3200mAh. While this is lower than the Mi Mix 2S, which had 3400mAh, this battery is still powerful; it manages to last me a full school day, from waking me up at 7:15am, to an hour walk before the gym, playing two instances of Pokemon Go at once, to Reddit right before I sleep. I also have a Mi Band 4 connected to it all day. The only time I've experienced sub-par battery was abroad, but that was because I had a bad signal so it was constantly searching for a signal. Otherwise, the battery serves me quite well, and when my day ends, I can just plop it on the wireless charger next to my bed instead of having to fiddle with the wire.
If you use your phone more often, you might have to charge it mid-day, but with the fast charger and wireless charger, you could just throw it on the wireless charger when you're not using it and rather on your desktop, doing paperwork, or something of the sorts.
Software
If you're outside of China, the Mi Mix 3 comes with MIUI 10 with built-in Google Play Services. While stock Android would have been nice, MIUI 10 isn't as bad as other skins. The default launcher doesn't come with any ads, which should be a given but unfortunately isn't in this day and age. On the topic of the default launcher, while I have switched, there's nothing wrong with the default launcher and I can see why people use it. MIUI 10 is based on Android Pie, but MIUI 11, which is launching in 4 days, is based on Android 10. Android 10 has only officially been out for a bit over a month, so it's nice to see Xiaomi updating their phones "fast." While a month(+) might seem like a long time, some companies take much longer, and some straight-up abandon past flagships too soon.
One very cool software feature is the customizability of the slider. You can set it to take a selfie, open an app, give you a bunch of "tools" (which is very useful), or do nothing. You can also change it's sound if you like customizability. There's also a google assistant button on the side which can be customized, but I wish you could change its function beyond Google Assistant. You can change the press and hold function, and double press, but the main press must be Google Assistant related. If you really want a different ROM, the Mi Mix 3 bootloader is easily unlockable via a desktop tool. The phone itself is also pretty fast, which is expected as it has 6GB of RAM, and a Snapdragon 845 (an 855 would have been nice though).
Connectivity
This phone has 2 SIM slots which are quite useful when travelling. Unfortunately, this could make you the family hot-spot. NFC and Bluetooth 5.0 are also both supported on this phone. No 5G connectivity is present on this model that we are discussing, although there is a 5G model. An IR blaster would have been nice but that is rarely present on phones, so it's not surprising that this phone lacks it. One issue that I've experienced is some apps such as Twitter (specifically images) and Pokemon Go don't load on one certain WiFi. This issue does not happen when I'm connected to any WiFi, except for one, so I expect this to be an isolated issue.
EDIT: The aforementioned issue has disappeared during the editing of this article. I'm not sure why, but everything is fine now.
Final Thoughts
The Mi Mix 3 is certainly a unique phone, with a certainly unique slider design. But is it done well? Yes. For a phone that is meant to push the boundaries, it certainly succeeds at this. It's got a fine screen, some nice software, a great battery, and an exceptionally good camera. If you're looking to upgrade your phone, I would recommend it for sure. It currently goes for only $368 on Amazon, which is a steal for a device of this quality. It also comes with a base storage of 128gb, something certain competitors should do.
I came from an iPhone 6S which was certainly good, but this phone made me regret holding off the upgrade this long. All in all, this phone is very much worth it, and I cannot wait to see what Xiaomi has to offer next. The Mi Mix Alpha, which is next in the Mi Mix line, seems to be a phone of the future, and I would love the opportunity to try it. For now, though, I'll gladly use this phone.